How to apply as a visiting student (Short-term Research/Internship)
* Application for International Visiting Scholars and Students from Hong Kong (effective until January 31st, 2020) please click here.
STEP 1
---
Search for an advisor in NSYSU

and forward the approval email of the advisor to oia.exchange@mail.nsysu.edu.tw.
STEP 2
---
Start your application online and choose your identity as a Short-term Visiting Student. Once your application is received by the Office of International Affairs, the documents will be sent to the related departments for evaluation. If accepted, you will receive approval letters via e-mail for your visa application.
It may require approximately 4-8 weeks to process, please complete your application at least two months before your internship program.
The on-campus dormitory can be applied on the system as well. (Further info of NSYSU Dormitory

)
Payment Information
All visiting students will need to pay the Administration Fee USD100 online in advance, which is not refundable.
Miscellaneous or tuition and fees will be charged in accordance with your registered period. (Payment bill will be issued after arrival)
- 30 days or less: Tuition-waived.
- 31 to 60 days: 1/3 miscellaneous/tuition fee.
- More than 60 days: full miscellaneous/tuition fee.
(2018-2019 academic year )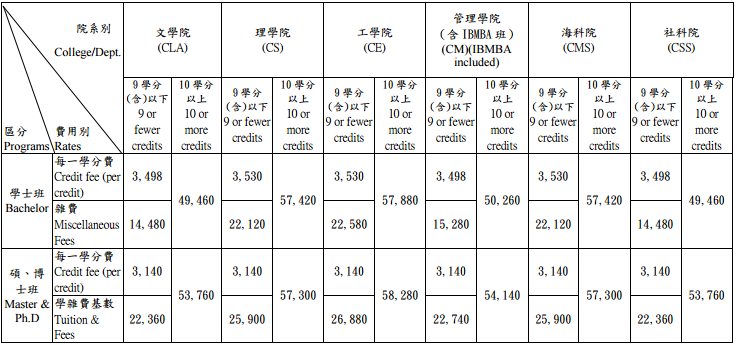 Other Fees :
- NSYSU Group Insurance Fee ≈ NT$326 (charged in accorance with the registered period)
- Internet & Wi-fi NT$300
- Dorm Fee : charge in accordance with your registered period.
STEP 3
---
Apply for Visitor Visa with approval letters. (If needed. * Students who undertake an internship over 180 days in Taiwan should apply for a Resident Visa.)
Purchase travel insurance (with medical and accident policies) which covers the whole duration of your stay. The insurance plan or certificate (English version) must be submitted upon registration.
* If your stay exceeds 90 days, it is mandatory for you to complete medical check-up form C before arrival.
STEP 4
---
Registration: All visiting students must complete the registration procedures within two days after arrival. Registration form can be collected at the Office of International Affairs.
STEP 5
---
Leaving: Leaving procedures must be completed three days before leaving. The form can be collected at the Office of International Affairs.
Contact Person
---
Program Coordinator, Division of Student Exchange
E-mail: oia.exchange@mail.nsysu.edu.tw
Tel: +886-7-525-2000 #2636