Fall 2020 Monkey Ecological Tour - Call for Participants! 獼猴生態導覽開放報名!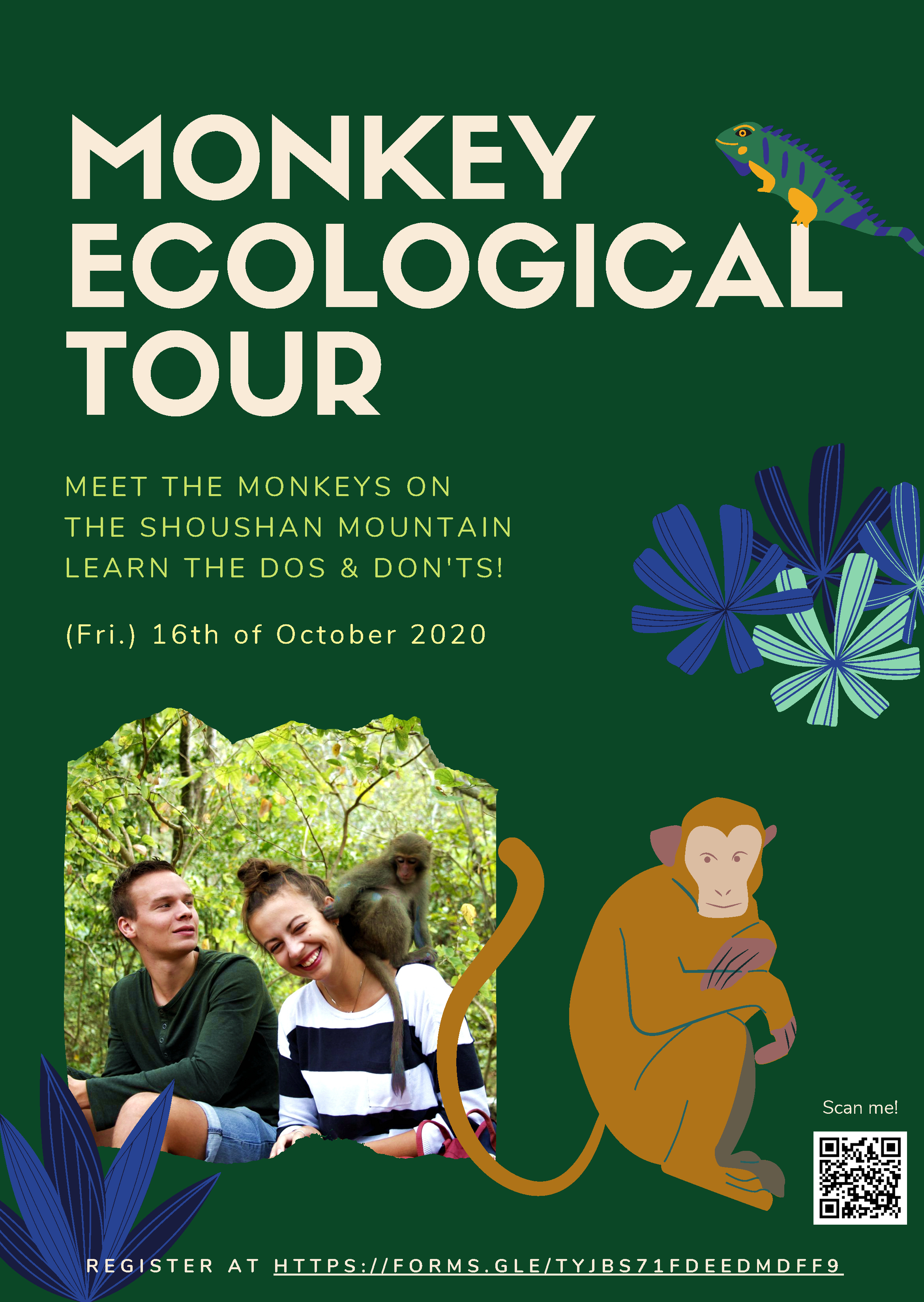 獼猴團主要訴求在於理解台灣獼猴生態,學習如何與獼猴相處及應對,在上山的過程中至少會有一個小時講解台灣獼猴生態與習性。
This monkey tour is aimed at understanding the ecology of Taiwan macaques and learning how to get along with and react to them.
During the tour, there will be a one-hour lecture about the ecology and habits of Taiwan macaques and hiking.
導覽回顧 Pictures of previous tours: https://oia.nsysu.edu.tw/p/412-1308-20596.php?Lang=en
Date : October 16th (FRI.) 十月十六日(五)
Time : 9:30AM-12:00PM
Place : ShouShan Trail 壽山登山步道
Participants : NSYSU international student - 10 seats / local students - 10 seats
本校國際學生 - 限額10位; 本地學生-限額10位
Only 20 seats available. First come first serve. 僅20個名額,額滿為止
Registration Fee (報名費用) : NT$50
The OIA will pay for the lecture fee for you. 國際處將協助繳付導覽費用。
Registration Deadline (報名截止時間) : 2020/10/8 (Thu.) 17:00
Online Registration: https://forms.gle/2yWWAZaUv4vcJCkXA
*** Registration will only be confirmed once you pay the NT$50 to Ms. Hana Ting(AD2004). Please bring the exact amount!.***
填寫完線上資料後需至國際處 AD2004 繳付報名費用以完成報名!國際處不找零,請帶剛好的零錢。